Everything you need to start selling online
All the benefits of an e-commerce website without the burden of building or maintaining one.
>>Your personalized e-commerce webpage.
>>Beautifully show your product listing.
>>Build followers right from your store page.
State-of-the-Art dashboard to manage everything.
>>Storefront Customization
>>Inventory management
>>Order Management
>>Invoice and Payment
>>Reports and More…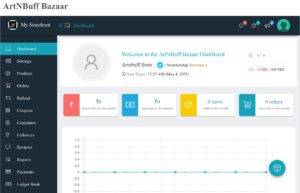 Start by deciding your primary market and base currency.
Choose from two great geography
Artnbuff Market @ USA
Compliant with USA Sales tax requirements.
Paid in USD Currency.
Artnbuff Bazaar @ India
Be Compliant with Indian GST requirements (No GSTIN Required).
Paid in INR Currency.
FEATURES
Webpage to promote your brand and business that includes,

Logo and Banner
Introduction/Information
Policy
Location and contact information
Social Media icons – for your store visitor's to find and follow you on social media.
Search Engine Optimization (SEO)
Virtual Storefront to showcase and sell your products or services.

Product Listing
Shopping Cart
Payment Gateway
Shipping Choices
Location
Store Hours
Store Management

Inventory Management
Order Management
Buy and print discounted Shipping Label (Available for USA based sellers, coming soon for India)
Store Invoice
Return and Refund Management
Finance Management

Get paid via Stripe, Paypal, or Bank account Transfer.
Ledger Book – Financial record of every transaction.
Worry-free USA sales tax handling.
Worry-free Indian GST handling.
Tools for Customer Support and Engagement

Coupon
Chat Box
Support Ticket
Store Review
Store Followers