The Legendary Singer Kishore Kumar
As we celebrate the birthday of the legendary singer Kishore Kumar, we honor his extraordinary talent, versatility, and timeless melodies. Let us come together to cherish the legacy of Kishore Kumar, immersing ourselves in his magical melodies and celebrating the everlasting charm of his voice. His impact on Indian music remains unparalleled, and his songs continue to resonate with music lovers across generations. In this blog, we pay tribute to the extraordinary talent of Kishore Kumar, exploring his life, unforgettable melodies, and enduring legacy.
A Melodious Journey
Delve into the fascinating life of singer Kishore Kumar, who carved his own path in the music industry. From his humble beginnings in Khandwa, Madhya Pradesh, to his rise to fame in the world of Hindi cinema, Kishore Kumar's journey is a testament to his passion, resilience, and sheer talent. Discover the anecdotes, influences, and milestones that shaped his musical genius.
Turning Point:
His entry into playback singing began with the film "Ziddi" (1948), where he sang the song "Marne Ki Duayen Kyon Mangu." This marked the beginning of his successful singing career in the Hindi film industry.
National Film Awards:
His exceptional singing talent earned him several accolades, including eight Filmfare Awards for Best Male Playback Singer and four National Film Awards for Best Male Playback Singer, solidifying his position as one of India's most celebrated playback singers.
Legacy in Indian Cinema:
His legacy as a playback singer is unparalleled. He sang for numerous leading actors, including Rajesh Khanna, Amitabh Bachchan, and Dharmendra, and left an indelible mark with chart-topping hits in films like "Aradhana," "Sholay," and "Amar Prem."
"Roop Tera Mastana":
One of his most iconic songs, "Roop Tera Mastana" from the film "Aradhana" (1969), became a sensational hit and solidified his position as the voice of the romantic hero.
Honoring Independence Day:
Kishore Kumar's rendition of the patriotic song "Mere Desh Ki Dharti" from the film "Upkar" (1967) became an anthem of patriotism, reflecting his dedication to celebrating India's independence and unity.
Versatility Beyond Boundaries:
Kishore Kumar's music transcended genres and captivated audiences of all ages. From soulful melodies to peppy numbers, he effortlessly embraced various musical styles, including romantic ballads, foot-tapping disco beats, and soul-stirring ghazals. Whether it was his soulful rendition of "Roop Tera Mastana" or his energetic performance in "Pag Ghungroo Bandh," Kishore Kumar's versatility knew no bounds.
Quirky Recording Technique:
During recording sessions, Kishore Kumar had a unique way of creating a relaxed atmosphere. He would often ask for a table full of food to be brought into the studio, and he would munch on food while singing, adding a distinctive charm to his recordings.
Funny Phone Conversations:
Kishore Kumar had a playful and humorous side. He would answer phone calls in various voices and once pranked legendary actor Dilip Kumar by pretending to be a fan. This lightheartedness endeared him to many in the film industry.
Music Meets Cinema:
Kishore Kumar's versatility extended beyond singing. He was a talented actor, director, and producer. His film "Chalti Ka Naam Gaadi" (1958), co-starring his brothers Ashok Kumar and Anoop Kumar, showcased his acting prowess and comedic timing.
Unforgettable Melodies:
Take a nostalgic trip down memory lane as we revisit some of Kishore Kumar's timeless melodies. From his collaborations with music composers like R.D. Burman and S.D. Burman to his iconic songs for Bollywood legends like Rajesh Khanna and Amitabh Bachchan, Kishore Kumar's voice breathed life into countless memorable songs. Let the enchanting tunes of "Pal Pal Dil Ke Paas," "Mere Sapno Ki Rani," and "Khaike Paan Banaraswala" remind you of the magic he created.
Legacy of Kishore Kumar:
Even decades after his passing, Kishore Kumar's legacy lives on. His impact on Indian music continues to inspire generations of singers and music enthusiasts. Known for his mesmerizing voice, versatility, and incredible range, Kishore Kumar remains an icon in the realm of Indian music. His songs evoke a range of emotions, from joy to melancholy, and have an enduring appeal that transcends time. his contribution to the Indian film industry and his unparalleled vocal prowess remain unparalleled.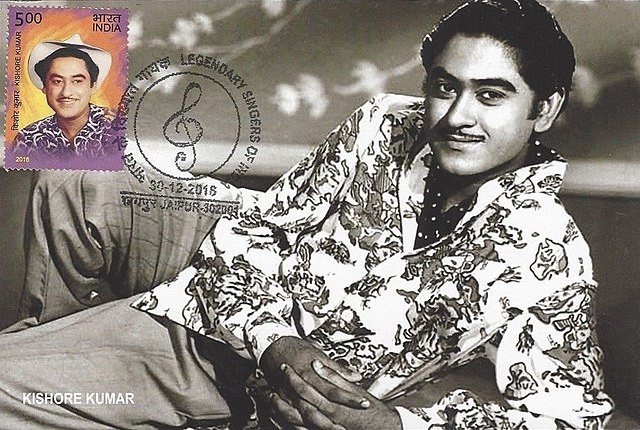 Celebrating Kishore Kumar's Birthday:
As August 4th approaches, music lovers around the world prepare to celebrate the birthday of the legendary Indian singer Kishore Kumar. On the occasion of his birthday, fans and music aficionados come together to celebrate his life and musical brilliance. Social media platforms buzz with heartfelt tributes, memorable performances, and fans sharing their favorite Kishore Kumar songs. It is a time to reflect on his contributions, cherish his melodies, and pay homage to a true legend of Indian music.
Celebrate your favorite artist by writing a blog here.