Let us cherish the artistry of Rakhi making and love that goes into each thread. Raksha Bandhan festival is not just about the exchange of gifts but also about the emotional connection between siblings, cousins, and friends. A central element of this festival is the Rakhi – a sacred thread of love and protection. By crafting Rakhis with our own hands or choosing handmade ones from Artnbuff, we not only celebrate the art of Rakhi making but also reinforce the significance of this sacred bond that unites brothers and sisters across generations.
In this blog, we will explore the beautiful art of Rakhi making, delving into its significance, history, and the joy it brings to both the maker and the wearer. Additionally, we'll discover how Artnbuff adds a touch of convenience to this cherished tradition, allowing you to send Rakhi to your beloved brother in the USA or India with ease.
The Significance of Raksha Bandhan
Raksha Bandhan, also known as Rakhi, is an ancient Indian festival that celebrates the special relationship between brothers and sisters. On this day, sisters tie intricately designed Rakhis on their brothers' wrists as a symbol of love, protection, and a promise of lifelong support. In return, brothers pledge to protect their sisters and offer them gifts as a token of appreciation. This sacred bond between siblings strengthens family ties and fosters a sense of unity.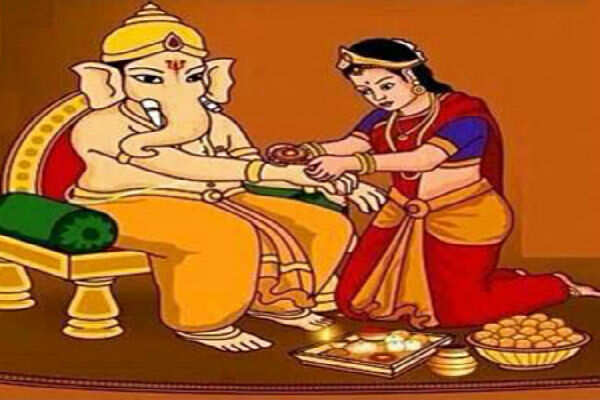 Rakhi is celebrated on the last day (full moon or purnima) of the Shraavana month of Hindu lunar calendar, which typically falls in August. It is said that Rakhi Purnima originated when Indrani, wife of Lord Indra, prepared a talisman, which she tied on her husband's wrist on Shravan Purnima to win the battle against the demons. The power of the talisman made the Gods victorious.
There are many reference of Rakhi tying throughout the history and in hindu scripture, which we will cover in another blog.
The Art of Rakhi Making
Materials Used
Rakhi making is an art that involves creativity, skill, and a lot of love. Traditionally, Rakhis were made using silk threads and decorated with auspicious symbols like beads, sequins, and small trinkets. However, modern Rakhis now incorporate a wide range of materials, including silk, cotton, zari (metallic thread), pearls, crystals, and even eco-friendly materials like jute and recycled paper.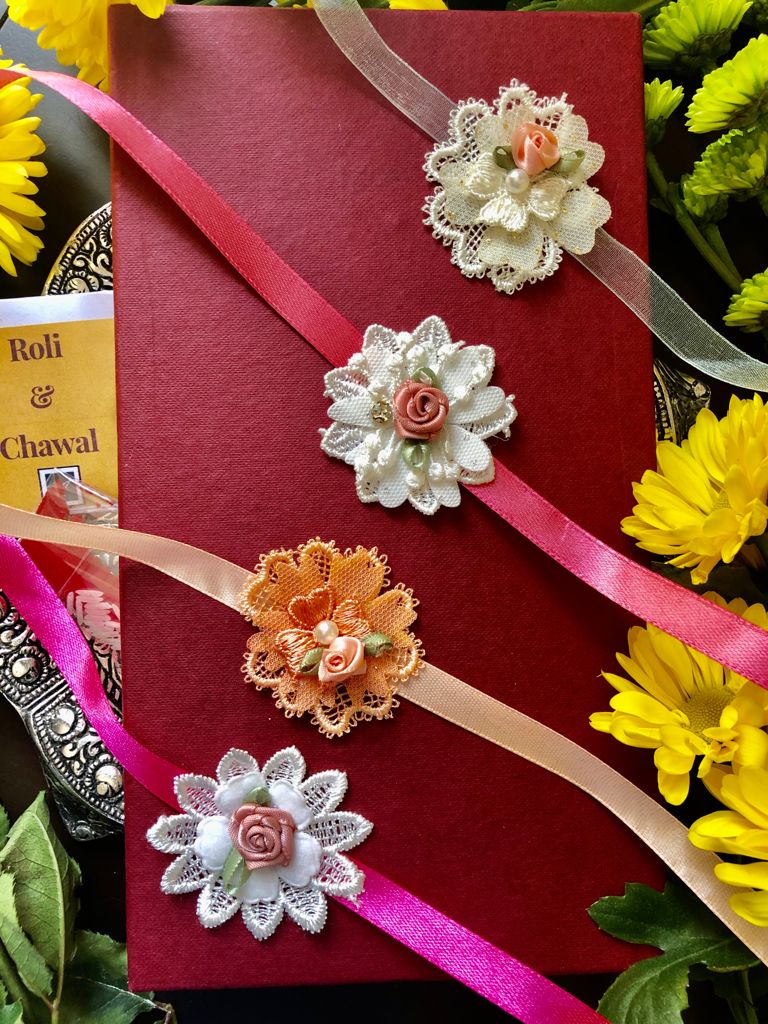 Handcrafted Love
The charm of a handcrafted Rakhi lies in its uniqueness and personal touch. Every Rakhi crafted by hand carries the love and dedication of the maker. Sisters often spend hours selecting the perfect materials and design to create a Rakhi that resonates with their brother's personality and preferences.
Embracing Creativity
One of the most delightful aspects of Rakhi making is the freedom to explore one's creativity. From simple and elegant designs to elaborate and ornate patterns, the possibilities are endless. Artisans and crafters often experiment with various techniques like embroidery, quilling, beadwork, and weaving to produce stunning masterpieces.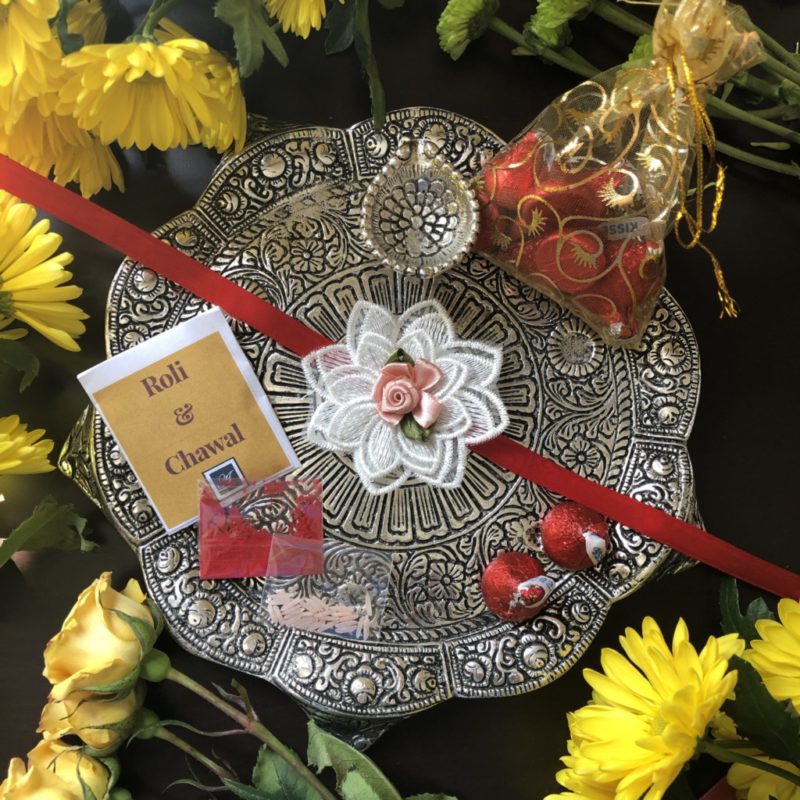 The Green Rakhi Movement
As environmental consciousness grows, the Green Rakhi Movement has gained momentum. This eco-friendly initiative promotes the use of biodegradable materials and sustainable practices in Rakhi making. Sisters can now express their love while also showing care for the environment through the use of recyclable materials, organic threads, and natural dyes.
The Joy of Rakhi Making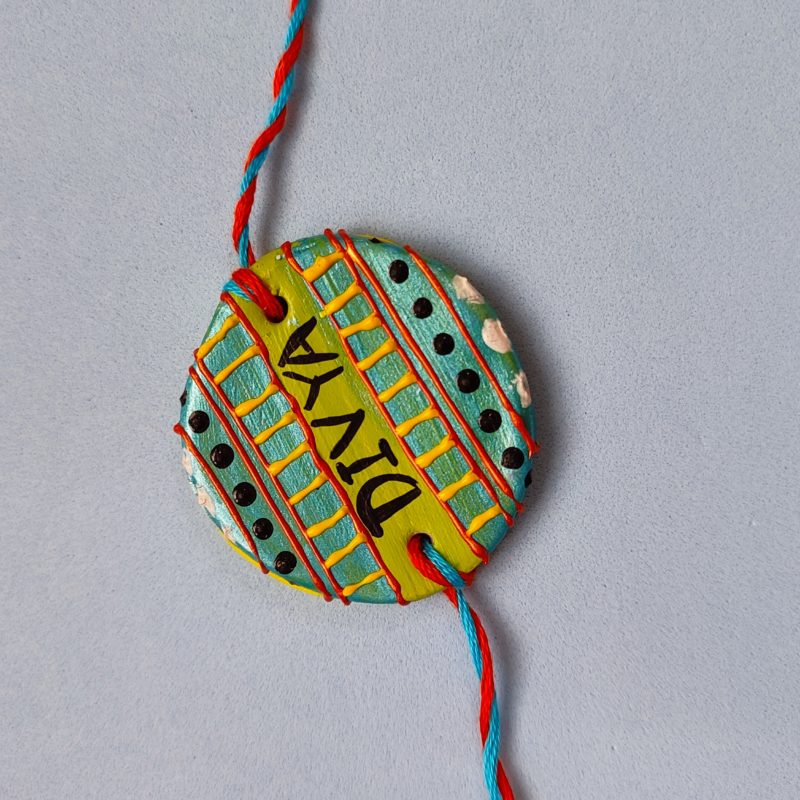 Bonding and Togetherness
Rakhi making is not just an art; it is a heartwarming activity that brings families closer. Sisters often come together with their mothers, aunts, or friends to create Rakhis. This process of bonding over creativity strengthens the familial ties and adds a layer of joy to the festival.
How to make a Simple Rakhi,
Follow one of the following two methods to make a simple Rakhi at home.
Method#1
Take about 10-12 inch long and 1/8 -1/4 inch wide satin Ribbon.
Attach a symbol (or Image, beads, Flower shaped lace, or pompom etc.) on the ribbon using glue.
That's it, your Rakhi is ready.
Method#2
Take about 10-12 inch long silk or cotton yarn (twisted or Braided)
Pass the yarn thru odd numbers of beads (3, 5, 7 etc.), keeping the largest bead in the middle and maintaining the symmetry on both side.
Move the beads to the middle of the yarn.
Secure the beads in position by making knots on both sides of the beads.
That's it, your Rakhi is ready.
You may also find video tutorial of Rakhi making on Youtube.
Sending Rakhi with Artnbuff
Artnbuff, an online platform for artists and crafters, has made it easier than ever to bridge the distance and send your heartfelt Rakhis to your beloved brothers in the USA and India. With a wide range of handcrafted Rakhis available, you can browse through unique designs and find the perfect Rakhi that reflects your love and affection. Artnbuff ensures timely delivery and takes care of the logistics, so you can celebrate Raksha Bandhan with your brothers, no matter where they are.
So, let us tie the threads of love and protection with a touch of art, creativity, and the convenience of Artnbuff.
Happy Raksha Bandhan!
Want to celebrate a special occasion with a bang?
Artnbuff has got you covered! You can become a part of our amazing community and share your thoughts and experiences by submitting a mind-blowing blog post right over here. Don't miss out on this incredible opportunity!